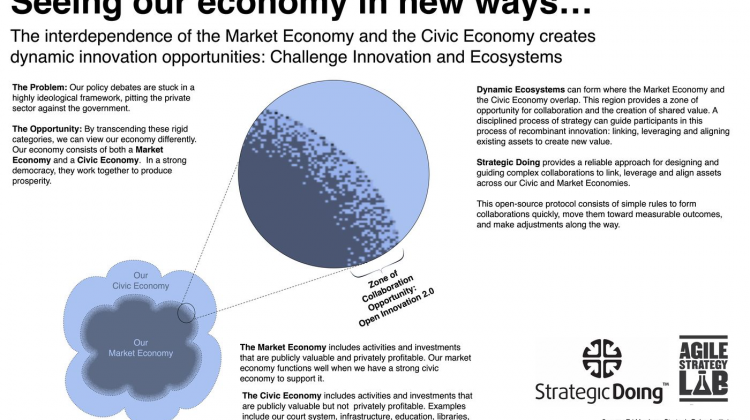 For years, our thinking about our economy has been hopelessly simplistic — the basic idea is that the forces of supply and demand if left alone, will produce the best of all possible worlds.
THE SIMPLISTIC MINDSETS OF ECONOMICS 101
This simplistic formulation has led to disastrous results: income inequality, environmental degradation, and political polarization.
So what is the alternative?
The honest answer is that no one is quite sure yet.
We are working on new approaches. (We need new models to organize our thinking and actions. We can't make sense of a complex world without them.)
OPEN INNOVATION 2.0 AND ECOSYSTEMS
One of the most promising involves ecosystems, open innovation, and creating value through collaboration. Some years ago, Michael Curley of Intel described this new world as Open Innovation 2.0.
The problem was that Curley had no clear way of explaining how to get there from here.
Now we do.
For over thirty years, I've worked in the swampy lowlands of complex, real-world problems. Problems that required collaboration to develop solutions. Problems that demanded relentless experimentation and high levels of trust among partners.
What Amy Edmondson has called "extreme teaming."
Here's the good news: we now have models and approaches that work to transform economies to make them more open, equitable, innovative, and sustainable.
These approaches guide companies toward becoming more agile, innovative, collaborative, and "psychologically safe."
JOIN ME ON THE JOURNEY TO THE FRONTIER OF OUR ECONOMY
I'd like to invite you to join me on a journey to the frontier of our economy.
As a start, look at a new way of thinking about our economy. Not the traditional public sector vs. private sector framing of Economics 101.
That's too rigid.
Instead, think of our economy as a Market Economy designed and guided by a Civic Economy. After all, that's how markets function in a democracy.
Economists Acemoglu and Robinson have shown us that economies prosper when the civic economies that define and guide them are inclusive.
Democracies fail when these institutions become insular and extractive.
The boundary between the Market Economy And the Civic Economy defines the opportunity for Open Innovation 2.0: ecosystems, collaboration, and recombinant innovation.
We can find our path to more sustainable, resilient, and equitable economies in this zone. (4,700)