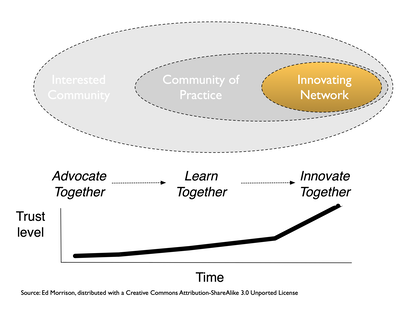 Narrowing Our Ingenuity Gap With Innovating Networks
Our ingenuity gap continues to grow. Our inability to design and guide "innovating networks" has led to the gap. But here's the good news.
We can close the gap if we practice and master some new skills: designing deeper, more focused conversations that lead to double-loop learning. (I'll explain that term below.) And even more good news: it's not costly to make the shift. We can teach these skills to anyone.
WHY IT MATTERS
Over two decades ago, Canadian environmental scientist Thomas Homer-Dixon wrote an important book: The Ingenuity Gap. He pointed to the growing gap between the ingenuity we need and the ingenuity we produce.
Solutions to the accelerating complexity of our world demand more ingenuity from us: we need to generate more ingenuous solutions.
We can't say that we weren't warned.
DIVE DEEPER: DONALD SCHÖN, ADAPTIVE LEARNING
Thirty years before Homer Dixon wrote his book — over fifty years ago — MIT scholar Donald Schön delivered the Reith lecture for the BBC.
Schön set forth our challenge in clear terms. To adapt to constant change, we need to learn how both individuals and organizations learn.
Schön asked us to think of our organizations as learning systems.
Because organizations are human systems, we can design them to generate and diffuse innovations more productively. We can accelerate our collective learning, innovation, and adaptation.
We can close our ingenuity gap.
THE BIG PICTURE: DOUBLE LOOP LEARNING AS THE PATH TO INNOVATION
Meeting this challenge requires a different type of learning. With his collaborator, Chris Argyris, Schön underscored the importance of "double loop learning," or adaptive learning. It's the type of learning that enables organizations to innovate, adapt, and evolve.
We can contrast adaptive learning with learning a routine: how to file an expense report, for example.
Adaptive learning is different. Here, we need a deeper inquiry: more focused conversations tied to continuous experimentation.
We frequently need to question the path we're on. Are our actions giving us the results we want? If not, we need to change course and change what we're doing.
It's the essence of what has become "agile" thinking and doing. What we call "strategic doing."
LEARN MORE ABOUT INNOVATING NETWORKS, ADAPTIVE LEARNING, AND STRATEGIC DOING
To learn more, explore the power of #strategicdoing, an open-source discipline to accelerate the volume and velocity of our collaborations.
You can start your journey with our book. Here's how Yo-Yo Ma begins his Foreword. "I've been waiting for this book all my life".
And CEOWorld Magazine has this to say: "Strategic planning is one thing – strategic doing is quite another. The authors of this book will redefine what real collaboration looks like for you. Smart and practical. This book is for you if you're looking for a well-defined leadership strategy for getting your arms around what's to come."
Check it out on Amazon: https://amzn.to/38fYa6d