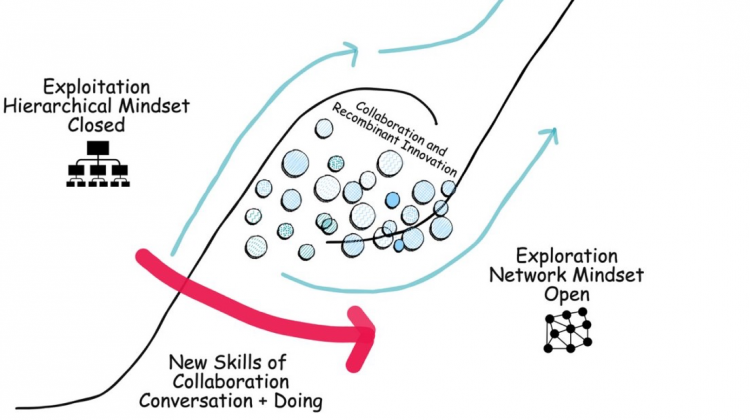 Collaboration: a Process of Recombinant Innovation
Collaboration. It's the least understood term in the management lexicon. So let's start there.
COLLABORATION: A PROCESS OF RECOMBINANT INNOVATION
If you scour the management literature for a clear understanding of collaboration, you'll find many flabby definitions. You'll even find this warning in a management book on collaboration: "[D]on't do it unless you have to" (Huxham & Vangen, 2005).
Scholars don't teach collaboration largely because they don't know what it is. (They are finding out, though. The emerging field of team science is forcing a more rigorous approach.)
I've found one exception: Michael Schrage of MIT, writing in the early 1990s. He got it right. Collaboration is a process of recombinant innovation.
Collaboration is not cooperation. It's not teamwork. Collaboration is an innovation process that you design and manage. It relies on abductive logic. https://lnkd.in/gmYH6hf5
AGILITY: ACCELERATING S-CURVES
The simple reason we should focus on collaboration: organizations need to develop the agility to navigate S-Curves.
The shift involves designing and managing a process of recombinant innovation. Recombining assets creates new opportunities on a new S-Curve. When discussing assets inside and outside the organization, we often refer to "open innovation."
CONVERSATION + DOING (EXPERIMENTATION AND LEARNING)
To make these moves more productively — to improve our agility — we need to master our oldest technology: our language and conversations. We generate and distribute knowledge through conversations, but we are not very good at it. And new research suggests we don't spend much time learning the skills we need. https://bit.ly/3QUWjdo
Here's what I've learned while putting together many complex collaborations. They emerge from conversations with a clear structure. When we follow some simple rules, we accelerate the volume and velocity of our collaborations. We become far more productive.
STRATEGIC CONVERSATIONS: 4 QUESTIONS + 10 SKILLS
These skills are teachable. That's #strategicdoing: an open-source discipline of four simple (but not easy) questions powered by ten skills. Like any discipline — playing the piano, learning to swim — mastery comes with practice.
MINDSETS: FROM CLOSED TO OPEN
The move to networks shifts our presumptions from closed to open.
We've moved from a world of press releases (information is closed unless we choose to release it) to passwords (information is open unless we protect it).
To manage risk, we rely less on rules and more on relationships. Less on protecting boundaries and more on accelerating innovation.
MANAGED NETWORKS: RISK AND METRICS
As we move away from hierarchies toward managed networks, we gain speed, accountability, and knowledge. With frequent check-ins, we learn what works to jump to a new S-Curve. We manage our risks far more effectively. Metrics power our learning.