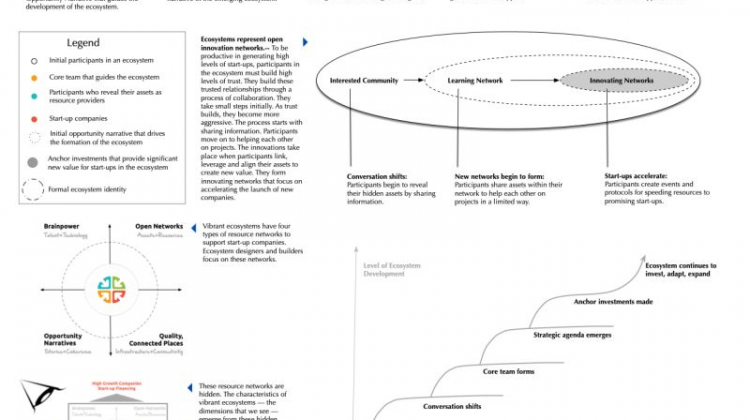 Entrepreneurial Ecosystems
There's no formula for building entrepreneurial ecosystems, but there is a logic to it. For the past six months, a small team has been working on a project funded by the Kauffman Foundation. Our starting point: Can we design a Strategic Doing learning platform for entrepreneurial ecosystem development that is replicable, scalable, and sustainable?
We think we can.
WHAT IS AN ENTREPRENEURIAL ECOSYSTEM?
An ecosystem represents a set of open networks embedded in other open networks. Ecosystems thrive when resources flow through these networks. An entrepreneurial ecosystem has a singular purpose — to speed the flow of resources to promising ideas for creating new value. The nodes in the network are people. Network links emerge from our conversations. Through these links, various resources flow: additional connections, knowledge, legal agreements, and financing are the obvious ones.
Entrepreneurial ecosystems are important because entrepreneurs create businesses from resources they do not fully own or control. The successful entrepreneurial team connects and aligns these resources to create new value. This value can be measured in money, but it does not have to be. Entrepreneurial teams create civic and social value, as well.
COLLABORATION SITS AT THE CORE OF ENTREPRENEURIAL ECOSYSTEMS
Collaboration is a process of innovation. Participants come together to recombine their available assets. As they do, new opportunities emerge. By moving ideas into action, they create new value.
Conversations drive the process.
The conversations that lead to collaborations have a predictable, hidden structure. There are skills to learn and practice. That's #strategicdoing.
ENTREPRENEURIAL ECOSYSTEMS AS A PORTFOLIO OF COLLABORATIONS
The development of Strategic Doing began in 1993. The challenge was large. How do we diversify the Oklahoma City economy? Over seven years, we learned that this process required a portfolio of initiatives.
We started with brainpower. What are the talents and technologies that could provide a foundation for a more diverse economy? Next, to connect these assets in new ways, we needed to break down silos with more open networks.
We also needed to be a cool, connected place, if we were going to attract and retain both talent and companies. Finally, we needed an opportunity narrative: stories that pointed to a promising future.
NOW A LEARNING PLATFORM
None of this is magic.
Andy Stoll, an ecosystem builder who now works at Kauffman, knows this. That's why, I think, he approached me last year. He saw how we were introducing this discipline to Iowa City, Calgary, Puerto Rico, Brazil, and Ecuador.
We start with new habits: a new way of thinking, a new way of behaving, and a new way of working together.
#strategicdoing provides the path: an open-source operating system for ecosystems. (29,000)