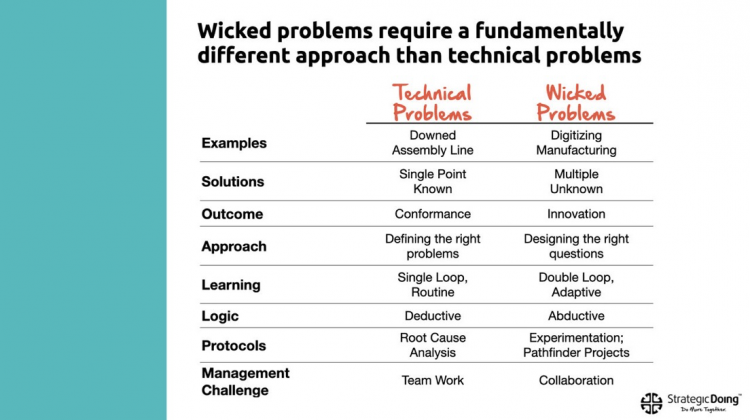 Technical and Adaptive Problems
Have you ever picked up the wrong tool to do a job? Perhaps a screwdriver too big or pliers too small? That's happening every day in our organizations, as leaders reach for the wrong tools to address the challenges they face. Let me explain.
OPEN AND CLOSED MINDSETS
John Cleese neatly divides our management mindsets into closed and open. We spend most of our time with a closed mindset — intensely focused, decisive, concentrating on the details of the day-to-day: solving problems.
Open mindsets, in contrast, lead us to creativity and new opportunities. We think laterally. We make connections. We innovate. It's more ambiguous, certainly, but it's also more creative and fun.
You can watch Cleese's video here: https://lnkd.in/eWddE3Xy
TECHNICAL AND WICKED PROBLEMS
This distinction is important because increasingly, we need to distinguish between technical and wicked problems.
We solve technical problems with focused, linear thinking, root cause analysis, and single-point solutions. Wicked problems, in contrast, are different. They are complex in two ways.
First, the underlying problem has many causes.
Second, people must collaborate to generate solutions. That's another source of complexity.
THE POWER DYNAMICS OF TECHNICAL PROBLEMS
Technical problems reinforce hierarchical power arrangements. People higher in the hierarchy achieve their position (in theory) because they can handle bigger technical problems. Most work their way up by establishing their track record as technical problem solvers. As a consequence, I suspect, they tend to see most problems as technical problems.
That's a mistake.
ILLUSIONS OF CLARITY
Imagine you are responsible for equipment reliability in a large process chemical plant. Downtime can be expensive, and there are hundreds of potential failure points: pumps, motors, conveyors. You get the idea. If you are trying to reduce downtime across the factory, you have a long list of technical problems to solve.
But are these really technical problems? Only on the surface. Imagine a different system, built on predictive (or condition-based) maintenance: sensors warning of imminent failure. How would you implement that system in your factory?
Now you are on the doorstep of a wicked problem.
SOLUTIONS TO WICKED PROBLEMS: COLLABORATION AND RECOMBINANT INNOVATION
The solutions to wicked problems require the human ingenuity that comes from collaboration. Since there are no single, set solutions to these problems, we need to mobilize our creativity, our collective ingenuity. To do that, we need a different management approach.
That's why we designed #strategicdoing. Increasingly, we need to find solutions to wicked problems.
Strategic Doing moves intentionally between the open mindsets that foster creativity to the closed mindsets that promote focus…and back again. We tackle wicked problems with a process that is divergent, convergent, and iterative.
It's a different approach for our times.