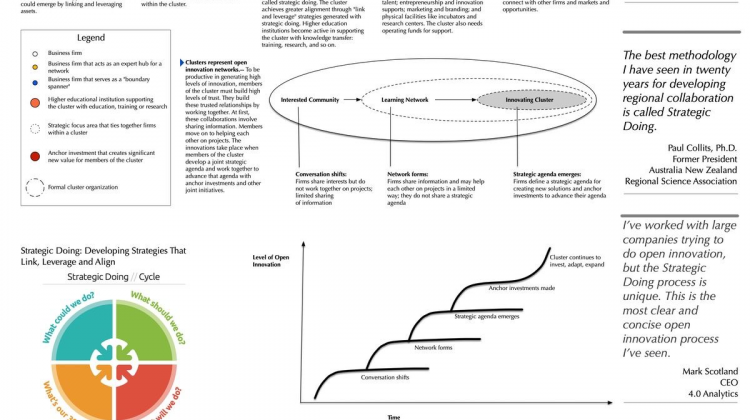 The Federal government has periodically launched initiatives to build clusters. We are on the crest of another wave (https://brook.gs/3EopaRa). Over the past 20 years or so, we've learned a lot about developing clusters. It helps to use a strategy discipline designed for open networks. You can think of clusters as open innovation on a regional scale.
We are now applying these lessons to jump-start the economy in Ecuador. We have launched a strategy process across 22 clusters.
Here are some key takeaways from our work in developing multiple clusters:
1. Clusters, like ecosystems, are composed of networks within other networks.
2. The purpose of clusters is to accelerate innovation and speed resources to promising market-based opportunities.
3. Clusters are complex adaptive systems. Focus on designing and guiding the platforms on which clusters form.
4. Analyzing clusters is not the same as designing and guiding their development.
5. A strategy discipline designed for networks provides coherence and speeds the process.
Connect with our Agile Strategy Lab if you want training on how to develop clusters: agilestrategylab.org
This work derives from transforming the Oklahoma City economy in the 1990's: http://theatln.tc/2pG37hE
Launching the Charleston Digital Corridor in 2001: https://lnkd.in/e4TUyaK
Launching the water cluster in Milwaukee in 2008: https://lnkd.in/dh6yApdV
Creating a clean energy cluster on Florida's Space Coast in 2010: https://lnkd.in/dF632n5w
Accelerating developing the aerospace cluster in Rockford starting in 2014: https://lnkd.in/dzHqEdpS